News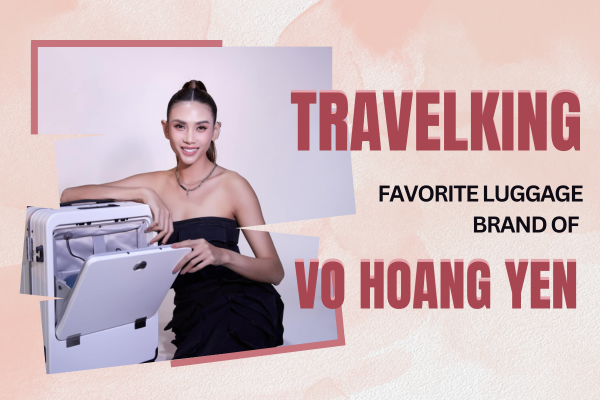 Posted by: Hung Phat JSC Luggage
Travelking - A Trusted Choice by Vo Hoang Yen
Travelking has become a favored luggage brand for Vo Hoang Yen. Let's explore the reasons behind ...
Travelking has become a favored luggage brand for Vo Hoang Yen. Let's explore the reasons behind why Travelking has gained special favor from this renowned supermodel!
Making an appearance in the Call Out My Name fashion show alongside the DAM by Vo Hoang Yen brand, Travelking has gradually solidified its status in the Vietnamese fashion scene. In the following article, let's discover why the Travelking luggage brand holds such a distinctive allure, capturing the attention of even the most discerning fashion enthusiasts!
>> Learn more: Hung Phat X D.A.M successful fashion show
Hung Phat as a Sponsor Alongside Travelking Luggage at the Fashion Show
1. Vo Hoang Yen and Her Special Affection for Travelking Luggage
As one of the top models in the Vietnamese fashion industry, Vo Hoang Yen constantly travels for her various work commitments. Therefore, she has chosen the most suitable companion for her journeys – Travelking luggage.
Beyond being just ordinary luggage, Travelking represents class and distinctive personal fashion style, capturing every gaze. This very reason is why Travelking luggage not only receives special admiration from supermodel Vo Hoang Yen but also from millions of Hung Phat's customers.
The tremendous media buzz following the Call Out My Name fashion event stands as a significant achievement for Hung Phat, driven by the desire to bring genuinely Vietnamese-manufactured products with exceptional quality to every customer's hands. This motivation propels Hung Phat to continue its growth and expansion in the future.
Vo Hoang Yen and her favorite suitcase - Travelking
2. Why Travelking?
2.1. Travelking Embodies Modern Fashion Style
Since its introduction, Travelking luggage has consistently held its position as the top choice and an irreplaceable favorite among Hung Phat's customers. By delivering high-quality luggage products with contemporary designs, Travelking has evolved beyond being just a luggage brand – it has become a language of fashion that elegantly expresses individual personality.
The range of Travelking luggage products at Hung Phat is incredibly diverse in terms of design, catering to all age groups. From youthful and dynamic styles for the younger generation to sophisticated, trendy looks for business professionals and fashion enthusiasts.
Representing the dynamic and colorful youth, some Travelking luggage models include Travelking 883, 884, 885, 886, 870...
For those who favor sophisticated and stylish luggage, Travelking offers a selection of top choices among business travelers. Notable models in this category include Travelking 887, 8003, 8007, 8082…
>> Learn more: Luggage collection at Hung Phat JSC
Luxurious and Classy Travelking Luggage
2.2. Travelking's Elegance in Every Detail
Outer Shell Design
Belonging to the premium segment, Travelking luggage products often use materials like 100% PC or PP plastic, known for their exceptional durability and flexibility. This makes Travelking luggage particularly resistant to breakage and oxidation, maintaining the pristine appearance of the outer shell for many years.
Furthermore, all premium-quality accessories such as locks, telescopic handles, carrying straps, and wheels match in color, creating an elegant and captivating overall look. Additionally, certain Travelking models like 8003, 8002, and 8081 are reinforced with robust aluminum frames, perfect for customers who frequently travel and require durability.
>> Learn more: Differentiating Plastic Types at Hung Phat's Factory
The Sophisticated Exterior of Travelking Luggage
Interior Design
The interior of Travelking's luggage is crafted from a significantly thicker 280T 100% polyester lining compared to other luggage lines. Additionally, the interior of Travelking series features durable shock-absorbing padding to securely hold and protect your belongings, preventing them from breaking during travel.
Interior with Thick Lining
Luxury accessories of Travelking
Security Locks: As Travelking suitcases belong to the premium segment, they are equipped with either 1 embedded combination lock or 2 flap locks for anti-slashing purposes. Additionally, the TSA lock is included for convenient luggage screening at the airport.
USB Charging Port: Each Travelking suitcase is equipped with a smart USB charging port, allowing users to charge their devices externally without needing to open the suitcase to access a power bank.
Aluminum Alloy Telescopic Handle: The robust and corrosion-resistant aluminum alloy handle features two adjustable levels for smooth and effortless maneuvering.
Shock-absorbing Wheels: Travelking suitcases offer a smooth and lightweight movement with their set of 4 flexible wheels that navigate effortlessly on various terrains, providing excellent shock absorption.
Laptop Compartment: Some models like Travelking 8081 and 8082 come with a dedicated laptop compartment, ensuring convenient storage and accessibility while on the go.
Cup Holder and Smart Clothing Hook: Certain Travelking suitcase models are also equipped with a cup holder and an intelligent clothing hook for added convenience.
Luxury accessories of Travelking
>> Learn more: Travelking - An excellent new suitcase brand
3. Positive Customer Feedback
Due to its outstanding features, Travelking suitcases are not only favored by supermodel Vo Hoang Yen but also trusted by millions of customers both domestically and internationally. Being one of the most beloved products in the market, Travelking suitcases continuously receive positive feedback from Hung Phat's millions of customers. This has contributed to building the brand's reputation and serves as a precious motivation for the ongoing development and improvement of their products.
4. Travelking and Hung Phat's Vision
Behind the success of Travelking lies the bold vision and determination of the manufacturer, Hung Phat. With the desire to provide the best experiences for users, Travelking has continuously improved the quality of its products while constantly seeking innovative ways to meet diverse customer needs. Travelking suitcases have established their position not only as outstanding products in terms of quality but also as symbols of sophistication and excellence in the luggage industry. The trust of Vo Hoang Yen and the positive feedback from customers are clear evidence of the value of this product. With Hung Phat's unwavering vision and effort, Travelking promises to remain a reliable companion on every user's journey.
Travelking - Success Through Boldness