News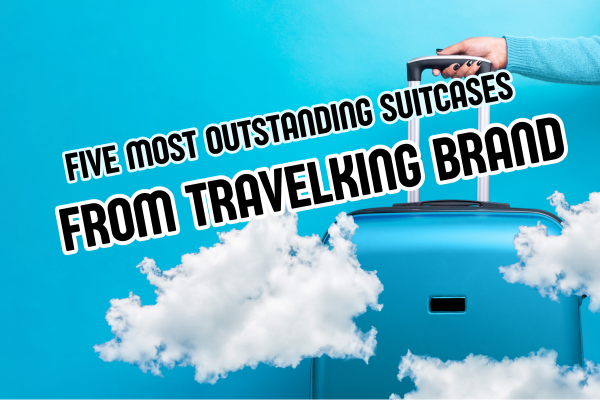 Posted by: Hung Phat JSC Luggage
FIVE MOST OUTSTANDING TRAVELKING SUITCASES AT HUNG PHAT
Travelking suitcases are known as a high-end brand of Hung Phat, renowned for their luxurious and...
Travelking suitcases are known as a high-end brand of Hung Phat, renowned for their luxurious and sophisticated designs, as well as numerous convenient features. Here are the top 5 Travelking suitcases that are most beloved at Hung Phat and that we would like to introduce to you.
A rolling suitcase is not only a travel companion to help you address concerns about the weight of your luggage but also an accessory that reflects the unique personality of each individual when traveling with family or friends. Below, you will find the top 5 Travelking suitcases that are currently the most popular and favored at Hung Phat, which you can consider before making a purchase.
1. Travelking 883 PP Plastic Suitcase - Bold and Stylish
Travelking 883 is a suitcase in the Travelking collection. This suitcase is loved by customers for its fashionable colors that suit a wide range of people, especially travel enthusiasts.
Here are some reasons to consider owning the Travelking 883:
Material: The suitcase is made from 100% PP material, which is durable and resistant to impacts and water. The aluminum handle is both lightweight and robust, with adjustable height. The 360° rotating wheels make it easy to move and offer smooth operation.
Interior: Inside, there's a spacious compartment for you to carry your belongings comfortably. It features convenient dividers, making it easy to separate your items. The X-shaped straps with locks keep your luggage secure and prevent shifting or mixing when in motion.
Size and Colors: The suitcase comes in two sizes (20'' and 24'') and six vibrant colors to choose from. When not in use, you can cover the suitcase with the included dust cover to keep it clean.
TSA Lock: It features a TSA lock, which enhances the security of your luggage. TSA locks prevent your luggage from being damaged during airport inspections, and they provide theft protection. You can easily open and close the lock with a button on the number lock.
USB Charging Port: The Travelking 883 stands out from other standard suitcases, especially the 20-inch carry-on size, because it includes a convenient USB charging port. This feature allows you to enjoy your journey without worrying about running out of power.
>> Details about TravelKing 883

Travelking 883 suitcase features fashionable colors and durable materials.
2. Travelking 8003 Aluminum Frame Suitcase - Luxury and Class
Travelking 8003 - A suitcase that combines all the outstanding advantages, luxury, and class. Travelking KN 8003 promises to be an efficient assistant, a perfect companion that elevates every journey.
Reasons to own the Travelking 8003 aluminum frame suitcase:
Material: Made from high-quality and durable 100% Polycarbonate (PC) plastic, it's tough and impact-resistant.
Size and colors: The suitcase is available in 3 sizes to meet all your needs (20'', 24'', 28'') and comes in 7 trendy colors for you to choose from.
Corner protection: Travelking 8003 is equipped with 4 metal corners at the 4 edges to protect the suitcase from impacts.
Telescoping handle: It features an ultra-lightweight, sturdy, and corrosion-resistant aluminum handle, designed to withstand harsh weather conditions.
TSA number lock: Absolute security thanks to the TSA number lock and a strong aluminum frame. The TSA lock complies with US standards.
Interior: Inside the suitcase, you'll find several convenient compartments, including a separate compartment for wet items. Other useful features include 360-degree swivel wheels for smooth and quiet movement, and 2 convenient carry handles for easy use when needed.
Aluminum frame: The distinctive feature of this suitcase is the premium aluminum frame, which is robust, anti-theft, and offers absolute security.
>> Details about TravelKing 8003
Travelking KN 8003 suitcase is luxurious and sophisticated.
3. Travelking 805 Aluminum Frame Suitcase - Top-notch Security
Travelking 805 Aluminum Frame Suitcase is designed for travelers who love vibrant and dynamic colors. With its modern design and eye-catching colors, the Travelking 805 suitcase will catch the attention wherever you are.
Here are the reasons why you should own the Travelking 805 aluminum frame suitcase:
Material: The Travelking 805 suitcase features a sleek design with straight lines and parallel grooves. It is made from 100% PC (Polycarbonate) material, providing excellent impact resistance and durability for long-lasting use.
TSA Lock: The suitcase is equipped with dual locks, providing both anti-theft and anti-scratch protection. The TSA (Transportation Security Administration) lock ensures maximum security, offering peace of mind for travelers.
Interior Organization: The suitcase's interior is intelligently divided, optimizing the arrangement of your belongings. The spacious interior compartment allows for efficient packing, and the X-shaped straps keep your luggage securely in place, preventing items from shifting during transit.
360-Degree Wheels: The 360-degree swivel wheel system offers flexibility and ease of movement on various terrains, ensuring smooth and effortless travel.
Telescoping Handle: The sturdy telescoping handle is made of lightweight aluminum and is resistant to corrosion. It allows you to adjust the handle's height to your preference.
Hanging Hook: Additionally, the suitcase is equipped with a convenient hanging hook on the outside for carrying bags or small items.
Travelking 805 Aluminum Frame Suitcase combines style, functionality, and security, making it an ideal choice for travelers who want a reliable and fashionable travel companion.
>> Details about TravelKing 805

The high-end and charismatic Travelking 805 suitcase
4. Travelking 8082 Aluminum Frame Suitcase - Classy in Every Detail.
Belonging to the high-end product range favored by business professionals, the Travelking KN 8082 suitcase draws inspiration from modern technology with its luxurious and classy design.
Material: Wrapped in 100% PC (Polycarbonate) plastic material, it not only ensures durability with good resistance to wear and tear and impact, but also makes the suitcase lightweight and flexible.
USB charging port: The suitcase is equipped with a USB charging port, allowing you to easily charge your electronic devices during layovers or while waiting to board your flight, without the hassle of searching for a public power outlet.
Clothes hook: In addition, the Travelking 8082 suitcase is integrated with a hook for hanging items, conveniently located on the side. Water bottle compartment: Located at the back of the suitcase is a compartment for storing water bottles, providing a convenient place for your bottle or cup.
Quick access compartment: What sets this business traveler's suitcase apart is the quick access compartment" on the front. This compartment is designed for users to store frequently used items such as documents, newspapers, and a 15.6-inch laptop. With its separate exterior location, accessing and using these items will be much faster, saving a lot of time for the user.
Handle: The suitcase features a sturdy and wide modern frame-style handle, in line with the 2023 hot trend. It's made of rust-resistant aluminum alloy and can be easily adjusted to suit the user's height.
TSA Lock: The suitcase is equipped with a TSA (Transportation Security Administration) lock, which is a mandatory requirement for luggage when traveling to the United States. According to the regulations of the United States Transportation Security Administration, airport security personnel in the United States may open a traveler's luggage for inspection if there are any suspicions.
Therefore, all luggage passing through security checkpoints must be in an unlocked state if they don't have a TSA lock. In the case of luggage with a TSA lock, security personnel will use a master key to open it without the need to cut the lock.
>> More details about TravelKing 8082
5. Travelking 808 aluminum frame luggage - Modern Business Style
Living up to its reputation as a product from the Travelking brand, the Travelking KN 808 suitcase boasts a luxurious, elegant appearance along with exceptional durability.
Material: The suitcase is made from high-quality 100% PC plastic, offering robustness and excellent impact resistance.
Quick Access Compartment: This product is a blend of business and short-term travel luggage, suitable for dynamic business professionals or office employees. The suitcase features all the necessary functionalities for personal belongings and includes a compartment for laptops up to 15.6 inches as well as an auxiliary compartment for documents.
Telescopic Handle: The telescopic handle is made from premium aluminum alloy, preventing rust and allowing users to easily adjust the handle height to their preference.
Storage Compartment: The interior of the suitcase is luxurious and spacious, catering to the needs of business professionals. With compact dimensions of approximately 44x41x23cm, it can carry 3-5kg of personal belongings, offering the flexibility to travel without concerns about exceeding the airline's weight limits.
TSA Lock: The use of a TSA lock ensures the safety of your luggage. It prevents the lock from being tampered with during security checks at the airport and offers protection against theft.
>> More details about TravelKing 808

Travelking 808 aluminum frame suitcase - Contemporary executive elegance
Above is the top 5 Travelking suitcases that are most loved at Hùng Phát. Customers have highly praised both the design and quality. With attractive prices and a manufacturer's official warranty, Hùng Phát's rolling suitcases are a safe choice for customers.
>> More products from Hung Phat