News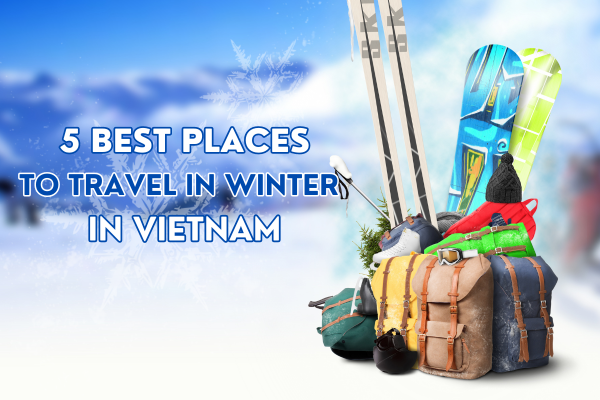 Posted by: Hung Phat JSC Luggage
TOP 5 WINTER TRAVEL DESTINATIONS IN VIETNAM
Winter is an ideal time to explore the beauty of Vietnam through captivating destinations. Hùng P...
Winter is an ideal time to explore the beauty of Vietnam through captivating destinations. Hùng Phát suggests the top 5 winter travel destinations in Vietnam:
1. Mau Son - Lang Son
Winter in Mau Son is memorable with vast fields covered in thick fog, creating a dreamlike atmosphere. The region is renowned for its endless pine forests, majestic mountain ranges, and unique karst landscapes. The winter season here often features salt mist, painting a beautiful picture. Explore scenic mountains, visit Thien Vu Pagoda, and indulge in specialties like honey-grilled chicken and Mẫu Sơn honey and salmon for an unforgettable experience.
Lang Son - Mau Son
2. Moc Chau - Son La
Moc Chau in the cold season is a land of pure white plum and apricot blossoms that captivate visitors, making it difficult to leave. Amidst the chilly air, surrounded by white plum blossoms, you'll have a beautiful travel photo as a memento. The landscape filled with pure white is what makes Moc Chau a must-visit destination in winter. Explore the lush green plateau and discover the lives of the mountain people.
Moc Chau - Son La
3. Sapa - Lao Cai
Winter in Sapa is unforgettable, with the town appearing tranquil and serene beneath the white mist. Sapa - Lao Caiis an ideal destination for those seeking a peaceful resort getaway in the winter. As one of Vietnam's famous tourist spots, Sapa entices visitors with hospitable ethnic villages, cultural landmarks, and delicious local dishes such as bamboo-tube grilled fish, buffalo meat from the hearth, and apple wine.
Sapa in winter
4. Đa Lat - Lam Dong
Known as the "Eternal Spring City" with a cool climate year-round, Da Lat becomes even more romantic in winter with mist and blooming flowers. Camping on hills, sipping hot coffee, and admiring the ancient city of Da Lat from a distance will be an unforgettable experience for tourists.
The Fog City - Da Lat
5. Phu Quoc Island
Phu Quoc Island District is an ideal destination to escape the freezing winter on the mainland. Winter in Phu Quoc is often warm, allowing you to swim and bask in the gentle golden sunlight on the beaches. Besides, Phu Quoc is a seafood paradise, satisfying the culinary desires of sea lovers. In recent years, Phu Quoc tourism has been thriving with 5-star resorts and numerous entertainment areas for visitors.
Island paradise - Phu Quoc
Tips for Winter Travel Preparation:
Bring useful tools such as a shoe bag, thermos, umbrella, and raincoat.
Prepare extra clothes: In winter travel, you may encounter light drizzles or catch a cold due to mist in high-altitude areas. Therefore, in addition to rain gear, you should bring extra sets of clothes to avoid getting sick from damp clothing.
Choose the right-sized luggage: Winter clothes are thicker and take up more space than summer clothes. Therefore, consider the size of the suitcase when packing for your trip. If you're on a short trip (about 2-3 days) nearby, choose a size 20 (cabin size) suitcase with about 4-6 sets of winter clothes. For a 5-7 day winter trip, a size 24 suitcase is suitable.
Consider the unique characteristics of winter travel when planning your detailed itinerary.
Make sure to select the right-sized luggage for a hassle-free and convenient journey. Explore Hung Phat's suitcase models for your perfect travel companion, providing the best adventurous experience!
>> Learn more: Top 5 Vietnam tourist attactions