News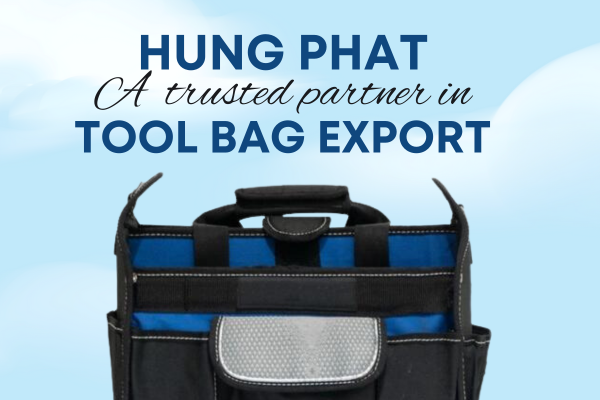 Posted by: Hung Phat JSC Luggage
HUNG PHAT - A TRUSTED PARTNER IN TOOL BAG EXPORTS
Exporting tool bags is one of the key goals of Hung Phat. In the international market, Hung Phat ...
Exporting tool bags is one of the key goals of Hung Phat. In the international market, Hung Phat is the leading trusted partner in tool bag production.
Tool bags are important tools for technicians. They help organize, secure, and store the tools used in repair and maintenance. The rapid development of technical-related industries has increased the global demand for tool bags. Recognizing this trend, Hung Phat has boosted the export of tool bags to meet global demands.
1. HUNG PHAT - LEADING ENTERPRISE IN EXPORTING TOOL BAGS
Hung Phat is one of the largest luggage manufacturers in Vietnam. With many years of experience in the market, Hung Phat has become a pioneer in exporting luggage to the international market, including tool bags.
With a commitment to valuing and nurturing Vietnamese values, Hung Phat continuously strives to enhance the national identity and its luggage products have successfully penetrated high-standard markets such as Japan, South Korea, and the United States.
With a strategic vision and a commitment to innovation and creativity, Hung Phat has exported tool bags that meet high-quality standards and the stringent requirements of the international luggage market.
>> Learn more: Tool bag collection at Hung Phat
2. WHY IS HUNG PHAT A RELIABLE PARTNER FOR INTERNATIONAL CLIENTS?
In a fiercely competitive market, Hùng Phát's products continue to maintain a strong position in the hearts of consumers. With its manufacturing strengths, Hùng Phát proudly asserts that its tool bag exports are leading products in the domestic and international luggage market.
Rich Experience: To achieve its current level of experience, Hung Phat has endured nearly two decades of challenges in the market. The result of years of relentless effort is hundreds of successful luggage export projects, including tool bags.
Modern Facilities: With three large workshops covering an area of over 15,000 square meters, Hung Phat possesses state-of-the-art machinery and proudly leads in terms of facilities in the luggage manufacturing industry in Vietnam.
Large Production Capacity - Up to 90% Self-sufficiency: With a series of modern production lines, Hung Phat proudly achieves up to 90% self-sufficiency in production, with a monthly output of over 20,000 tool bags.
Strict Quality Control: In addition to focusing on machinery and equipment, Hung Phat places special emphasis on the output quality control process. Each finished product must undergo rigorous inspection of every detail by a specialized quality control team.
Highly Skilled Workforce: Recognizing the importance of "human resources" in business operations, Hung Phat has attracted more than 600 skilled, dedicated employees who are committed to their work.
High-quality Products: The outcome of the management's and workers' ceaseless efforts is tool bags for export by Hung Phat, which are highly praised by international partners and fully meet international quality standards.
Hung Phat - trusted address to global parrtners
3. BENEFITS FOR PARTNERS WHEN ORDERING FROM HUNG PHAT
With experience in exporting luggage to a range of major countries, surpassing high-standard requirements to represent the national identity on the international stage, Hung Phat confidently provides the best benefits to its partners.
Benefits for Partners with Hung Phat:
Best Market Prices: One of the top benefits that Hung Phat offers to partners is competitive and attractive pricing. This is achieved through a system of modern production machinery and up to 90% self-sufficiency.
Diverse Designs: The international market demands diversity in designs and styles. Hung Phat takes pride in having a diverse collection with hundreds of tool bag models suitable for the specific technical characteristics of each country and region.
Customization: Hung Phat understands that each market and customer has special requirements. We always strive for effective communication with partners to understand their needs and ensure that the exported tool bags fully meet customer demands.
Friendly Service: Hung Phat prioritizes partner satisfaction. We provide friendly, enthusiastic, and flexible services. Customers can trust that we will support their requests quickly and efficiently.
Hung Phat partner benefits
Hung Phat is not only a business but also an important part of Vietnam's economy. We contribute to national development through export activities, job creation, and community development. We consider contributing to society an indispensable part of our mission.
We are proud of our achievements and committed to continuing to provide high-quality, reputable tool bags to meet the requirements of international partners. Choose Hung Phat - the top trusted partner in tool bag exports in Vietnam!
>> Learn more: Hung Phat - A pioneer in exporting luggage in Vietnam
HUNG PHAT - CREATING VIETNAMESE VALUES
HOTLINE: +84968790085
MAIL: sale_export@hungphat-jsc.com