News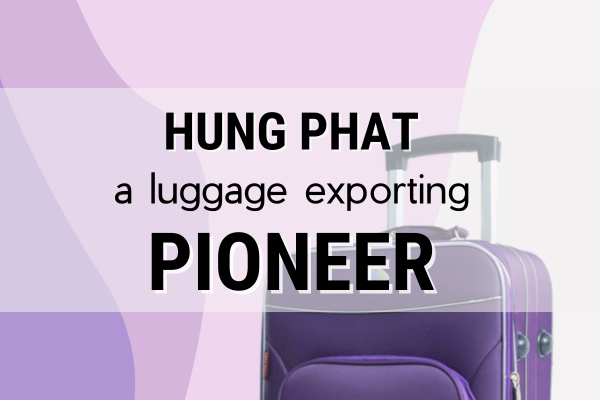 Posted by: Hung Phat JSC Luggage
HUNG PHAT - A PIONEER IN EXPORTING LUGGAGE
As a leading luggage company in Vietnam, Hung Phat shines brightly in the production of high-qual...
As a leading luggage company in Vietnam, Hung Phat shines brightly in the production of high-quality export suitcases for the international market.
With a desire to create Vietnamese value, Hung Phat is tirelessly working to enhance the national position in the international luggage market. In this article, let's explore the potential of Hung Phat's high-quality export suitcase production and answer why this is a reliable exporter for foreign partners!
1. About Hung Phat - The "giant" in the production of genuine export suitcases in Vietnam
Starting its journey in 2006, Hung Phat has become a pioneering luggage manufacturer in exporting branded suitcases to the international market.
Always guided by the principle of "creating Vietnamese value," Hung Phat continuously strives to elevate the national position and has successfully entered high-standard markets such as Japan, South Korea, the United States, and several Southeast Asian countries.
In the fiercely competitive market, Hung Phat export suitcases maintain a strong position in the hearts of consumers, proudly asserting itself as the best-quality luggage product, leading both in the domestic and international markets.
With a strategic vision and a commitment to innovation, Hung Phat exports high-standard products that meet the strict requirements of the international luggage market. Through continuous efforts in its development journey, Hung Phat has achieved notable milestones, as evidenced by numerous prestigious awards, including the "Golden Product Cup," "High-Quality Brand" (2018), "Reliable Brand, Quality Products, and Dedicated Service," and "Outstanding Entrepreneur" (2019).
>> Learn more: Hung Phat JSC - A big Vietnamese luggage manufacturer
Hung Phat exporting map
2. Why is Hung Phat a trusted partner for foreign countries?
Throughout its journey of innovation, Hung Phat has always valued "Trust-Heart-Quality" as its core values. Thus, despite major market fluctuations over nearly two decades, Hung Phat remains steadfast as one of Vietnam's top luggage export brands and the most reliable partner for foreign countries.
2.1. Extensive experience in suitcase exports: To confidently stand alongside global giants, Hung Phat has undergone over 17 years of continuous development, adapting flexibly to the rapidly changing luggage market. With invaluable experience accumulated over the years, Hung Phat has achieved remarkable success with hundreds of suitcase export projects to the international market, earning thousands of positive feedback from both partners and customers.
2.2. Modern infrastructure, up to 90% self-sufficiency in production: With three large factories covering an area of over 15,000 square meters, Hung Phat boasts state-of-the-art machinery and equipment, leading the luggage industry in Vietnam in terms of infrastructure. Behind each high-quality export suitcase is a series of production lines, from the smallest components like logos to wheels, pull handles, and the suitcase's plastic body. Each component, no matter how small, requires a dedicated production machine with nearly absolute precision.
Hung Phat currently possesses eight production lines with hundreds of machinery and equipment serving various production purposes:
Fabric suitcase production line

Plastic suitcase production line

Accessory production line (straps, pull handles, wheels, foot stands)

Assembly line for suitcase accessories, backpacks, and tool bags

Aluminum frame suitcase production line

Backpack, rolling bag, tool bag production line

High-tech sheet metal forming production line

Drilling and punching production line
With advanced and modern equipment in production, Hung Phat proudly achieves up to 90% self-sufficiency in luggage production, speeding up production time and ensuring product quality for large orders.
2.3. Stringent quality control process: In addition to focusing on machinery and equipment, Hung Phat pays special attention to the quality control process of the final product. Every finished product must undergo strict quality control, scrutinized detail by detail by a specialized team of workers responsible for quality control. In addition, Hung Phat's employees continuously conduct durability tests on the products to ensure that each suitcase, backpack, or travel bag delivered to customers brings the best benefits and long-lasting satisfaction.
The rigorous quality control process ensures Hung Phat's credibility with partners and customers. Moreover, with a philosophy of valuing customer interests, meticulousness in the inspection process is Hung Phat's responsibility. Everything is aimed at the goal of "ensuring the best interests of customers."
Stringent quality control process
2.4. Skilled workforce: The key factor that makes a strong enterprise is its "people." With its significant reputation, Hung Phat has attracted a team of skilled and dedicated employees who are passionate about their work.
For its employees, Hung Phat has created a working environment of unity, mutual respect, provided appropriate income, and offered equal development opportunities for everyone. Thus, we place our trust in our staff, and their dedication is reflected in each product delivered to customers.
2.5. Internationally standardized suitcase products: Repaying the continuous efforts of the company's leadership and employees are Hung Phat's suitcase products, which are highly rated by foreign partners and fully meet international quality standards.
Hung Phat's genuine export suitcases have gradually made a successful entrance into the world, with initial successes in demanding markets such as Japan, South Korea, and the United States.
>> Learn more: Hung Phat luggage collection
3. The Benefits of Being a Hung Phat Import Partner
With its experience in exporting suitcases to major countries, overcoming high standard barriers to mark the national position in the international market, Hung Phat confidently offers the best benefits to its partners.
Hung Phat Partner's benefits
3.1. Attractive prices: One of the top benefits that Hung Phat provides to partners is competitive and attractive prices. This is achieved through a modern and self-sufficient production system, with up to 90% self-sufficiency. We not only produce high-quality export suitcases but also optimize processes to significantly reduce production costs. This helps partners save finances while still ensuring product quality remains uncompromised.
3.2. Diverse designs: The international market demands diversity in designs and styles. Hung Phat takes pride in its extensive collection of thousands of high-quality export suitcase models, each tailored to the tastes of different countries. This allows partners to easily find and select products that meet their specific needs.
3.3. Customized production: Through OEM & ODM services (Original Equipment Manufacturing and Original Design Manufacturing), Hung Phat is committed to producing, crafting, and printing products according to the specific requirements of each partner. We understand that each market and customer has unique demands, and we work with you to fully meet those requirements.
3.4. Friendly service: Hung Phat always prioritizes customer satisfaction. We provide friendly, enthusiastic, and flexible services. Customers can trust that we will support their needs quickly and effectively. We consider our partners as part of the family and are committed to creating a comfortable working environment, fostering cooperation, and mutual benefit.
>> Learn more: Hung Phat B2B/OEM/ODM
4. Contributions to the National Economy
Hung Phat is not just a business but also an essential part of Vietnam's economy. We contribute to the country's economic development through export activities, job creation, and community development. We see contributing to society as an integral part of our mission.
Hung Phat contribute to the national economy
5. Hung Phat imbues ambition in every product
Every piece of luggage is imbued with the passion and ambition of Hung Phat's suitcase manufacturer. Conquering the highest-standard markets is a monumental achievement for the leadership and staff of Hung Phat, achieved through years of continuous effort.
It's no coincidence that Hung Phat's suitcases are highly regarded by foreign partners. Exporting high-quality suitcases, backed by extensive experience and customer dedication, has established Hung Phat as the leading brand in the export suitcase market.
We are proud of our achievements and are committed to continuing to deliver high-quality export products, a reputable brand, and meeting all the requirements of international partners. Choosing Hung Phat means choosing the leading export suitcase partner in Vietnam.
Hung Phat imbues ambition in every product