News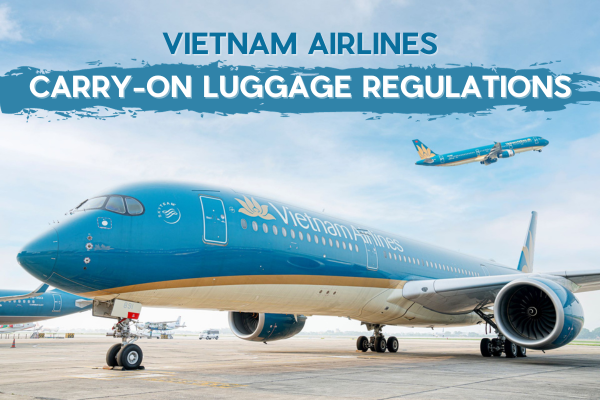 Posted by: Hung Phat JSC Luggage
VIETNAM AIRLINES' CARRY-ON LUGGAGE REGULATIONS
Vietnam Airlines' carry-on luggage regulations are put in place to ensure safety during flights a...
Vietnam Airlines' carry-on luggage regulations are put in place to ensure safety during flights and provide passengers with a memorable travel experience.
Vietnam Airlines is the national airline with top-notch services and reputation in the country. Therefore, understanding Vietnam Airlines' regulations will help you avoid unnecessary troubles during your journey and fully enjoy your flight. Let's take a look at the latest carry-on luggage guidelines of this airline!
1. General Regulations on Vietnam Airlines' Carry-On Luggage
1.1. Regulations on Size
Vietnam Airlines regulates carry-on luggage weight based on two fare classes: Economy Class and Business Class.
Economy Class: The total carry-on luggage weight must not exceed 12kg.
Business Class: The total carry-on luggage weight must not exceed 18kg.
Additionally, according to the airline's regulations, if the passenger is a child under 2 years old, their carry-on luggage should not exceed 3kg, and they can bring a collapsible stroller or pram that can be stored in the luggage compartment. In case the luggage compartment is full, baby strollers/prams will be transported free of charge as checked baggage.
1.2. Regulations on Dimensions
In addition to weight standards, carry-on luggage must also meet the size requirements according to the airline's regulations.
For one piece of carry-on luggage: The maximum dimensions are 56cm in length, 36cm in width, and 23cm in height (totaling less than 115cm).
For one personal item: The maximum dimensions are 40cm in length, 30cm in width, and 15cm in height (totaling less than 85cm).
Vietnam Airlines regulations on luggage dimensions and sizes
Notes on Vietnam Airlines' Carry-On Luggage Regulations
In addition to free carry-on luggage, passengers are allowed to bring some personal items such as:
Umbrellas (non-metallic folding type)

Books, newspapers, magazines (small quantity)

Coats or shawls

Assistive devices for people with disabilities (canes, prosthetic limbs, wheelchairs, etc.)

Strollers (collapsible)
Carry-on luggage exceeding the weight or size limits will be required to be checked. In cases where the aircraft's capacity is limited, luggage meeting the standard requirements will be counted as free checked baggage.
Notes on Vietnam Airlines carry-on baggage.
Restricted Items for Transport
To ensure maximum safety during flights, certain types of luggage are prohibited or subject to special regulations when carried on board.
Items that are strictly prohibited (not allowed in carry-on luggage):
Weapons, sharp objects capable of causing harm

Firearms (including toys) or similar-shaped items. To check these items, you need permission from the authorized agency.

Tools capable of causing injury, such as hammers, pliers, wrenches

Martial arts, sports equipment (baseball bats, billiard cues), and aerosol sprays
Items recommended to be carried in carry-on luggage:
Valuable jewelry

Cameras, camcorders, phones, personal laptops

Special Note: Removable Lithium battery devices, portable chargers, are only accepted as carry-on luggage (not allowed as checked baggage).
Additionally, there are certain items with special conditions for transport by the airline (conditional transport). You can refer to [LINK] for more information.
Restricted items for transport
4. Recommended Carry-On Luggage Models and Trusted Places to Buy
For your convenience in carrying carry-on luggage, you should carry a cabin-sized suitcase, a duffle bag, or a travel backpack. Hung Phat suggests some carry-on luggage models that are easily available at AEON MALL supermarkets and Hung Phat's official retail stores.
4.1. Plastic suitcase size 20 (cabin size):
The typical capacity of a size 20 suitcase is around 7-10 kg. Adding the weight of the suitcase (about 2 kg), a cabin-sized suitcase can be taken on board.
However, depending on the weight of your belongings, the weight limit may be exceeded, requiring you to check your luggage. Therefore, estimate the weight of your luggage carefully before going through airport procedures!
Size 20 plastic suitcases at Hung Phat are carefully designed to meet the size requirements of various airlines, so you can rest assured when choosing Hung Phat suitcases as your travel companion.
At Hung Phat, there are hundreds of different suitcase models with various sizes to meet customers' transportation needs. Some suitcase models like Travelking 8081, 8081, and 808 have a dedicated laptop compartment to provide maximum protection for your laptop during travel.
Choose the most suitable suitcase for your journey at Hung Phat to have the most complete travel experience!
Size 20 suitcase - the perfect choice for carry-on baggage
4.2. Duffel Bag (gym bag)
With its fashionable, lightweight design and reasonable storage capacity, a duffle bag is also an excellent choice for carrying on board.
The typical capacity of a duffle bag is around 5-7 kg, which is suitable for the cabin luggage compartment. However, a duffle bag cannot hold a laptop, so if you need to bring your personal laptop for a business trip, consider carrying a cabin-sized suitcase, especially the models with a laptop compartment.
Duffel bag - A popular choice for carry-on luggage on flights
4.3. Travel Rolling Bag:
If you don't want to carry luggage on your shoulder, a travel rolling bag is a better option for you. It comes with a retractable handle to reduce the burden of carrying luggage, especially suitable for older passengers.
The typical capacity of a travel rolling bag is around 5-7 kg, depending on the amount of luggage you carry.
Travel roller bag - Reducing the burden on your shoulders
4.4. Travel Backpack
A travel backpack is a carry-on luggage option with limited capacity, but it can accommodate a laptop. If you prefer not to carry a suitcase, but still want to bring your personal laptop, find yourself a travel backpack suitable for short business trips.
Convenient backpack for travel or short business trips
With nearly two decades of experience pioneering in the luggage manufacturing industry in Vietnam, Hung Phat is confident in providing customers with the best quality suitcases, backpacks, and travel bags at the most reasonable prices.
Accompanying millions of users domestically and internationally, Hung Phat's products are highly praised in all aspects and are gradually expanding into the international market.
Trust in Hung Phat for every journey because we understand and value your travel experiences!
HUNG PHAT - CREATING VIETNAMESE VALUES
HOTLINE: +84968970085