News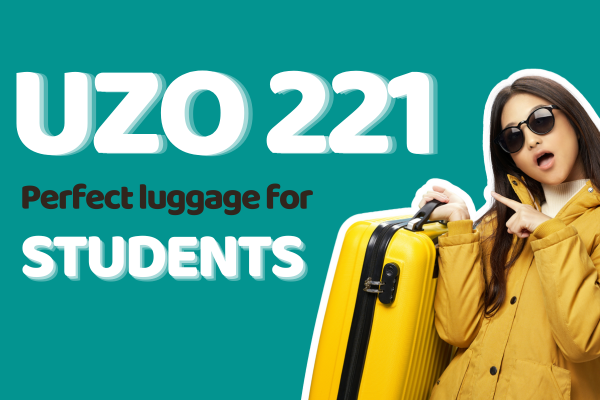 Posted by: Hung Phat JSC Luggage
UZO 221 - top student suitcase
As one of the best-selling student suitcase models this summer, the UZO 221 suitcase is the perfe...
As one of the best-selling student suitcase models this summer, the UZO 221 suitcase is the perfect choice for young people who are getting ready for the new school year.
The back-to-school season is approaching, and if you're still searching for a cost-effective suitcase, then the UZO 221 suitcase is the most promising candidate. The UZO 221 suitcase is part of Hung Phat UZO collection of affordable suitcases, offering a reasonable price and guaranteed quality that ensures satisfaction even for the most discerning customers! Let's find out why the UZO 221 is highly rated as a popular suitcase in the following article.
Student best suitcase UZO 221
1. Salient Feature
Textured ABS plastic surface to prevent scratches: The UZO 221 suitcase features a unique textured ABS plastic surface, which not only adds aesthetic appeal but also effectively prevents scratches, ensuring your suitcase maintains its fresh look after long journeys.
Accessories: The UZO 221 suitcase for students is equipped with high-quality accessories to meet the diverse needs of young people, especially students who are preparing to head to university.
25% Expandable zipper for additional capacity: The most prominent feature of the UZO 221 is its expandable lock, allowing you to effortlessly increase your luggage capacity within the suitcase without needing an additional external bag.
Aluminum Alloy Telescopic Handle: The UZO 221 suitcase features a telescopic handle made from durable and smooth aluminum alloy, equipped with two adjustable levels to accommodate users of different heights.
360-Degree Wheels: The UZO 221 suitcase is equipped with a flexible 4-wheel system that allows you to effortlessly maneuver on all types of terrain without worrying about damaging the suitcase or its contents.
Carry Handles: The UZO 221 features two flexible and sturdy carry handles, one positioned horizontally and the other vertically, both capable of withstanding substantial weight. Additionally, it is equipped with four ground-touching nubs when laid horizontally, aiding in stabilizing the suitcase and preventing dust from adhering to the plastic surface when placed down.
High-security 3-digit combination lock: The UZO 221 is equipped with a built-in combination lock with a 3-digit code. Upon receiving the suitcase, the default code will be set to 000. It's recommended that you change this default code to a personalized sequence to ensure the highest level of security for your belongings.
Convenient hanging hook: The UZO 221 student suitcase features a practical hanging hook that allows you to free up your hands by attaching a bag. In cases where you have additional luggage outside the suitcase, simply pack it into a bag and hang it alongside the suitcase to prevent any loss or misplacement.
Outstanding features of UZO 221
>> Learn more: Distinguish plastic types in suitcase manufacturing
Interior: The interior of a suitcase is of paramount importance as it directly relates to the organization of items inside. Recognizing the significance of efficient luggage organization, Hung Phat has equipped the UZO 221 suitcase model with a compartment featuring a zippered closure, along with a mesh pocket and X-shaped straps to secure your belongings in place
Spacious compartment: You can easily organize your clothes by rolling them up and placing them inside the suitcase, then securing them in place by zipping the compartment. With the mesh compartment, you can store your charging cables, various cosmetics, as well as personal items separately from your clothes to avoid mixing them together.
Cross straps for securing items: To minimize the possibility of your belongings getting jumbled up during travel, the cross straps are provided to help secure your items. At Hung Phat these cross straps are carefully and meticulously crafted to be much stronger and more secure compared to other ordinary suitcase products.
Expansion zipper: The convenience of expanding the storage space by an additional 25% is incredibly useful for a student suitcase like the UZO 221. Young people often worry about the possibility of having slightly more luggage during the process of preparing for school, and in such cases, you need extra space in your suitcase to accommodate everything. Therefore, with the expansion zipper, you can feel confident in adding more belongings without needing to rely on extra bags outside the suitcase.
Spacious compartment of UZO 221
2. Why is the UZO 221 suitcase referred to as a student suitcase?
Reasonable Price: With the quality and fantastic features that the UZO 221 plastic suitcase offers, the price of the product is a very reasonable investment for your travel gear.
Youthful Design: The UZO 221 suitcase is not only a tool for transportation but also a fashionable accessory that reflects your unique style. With a range of 8 colors that match your individuality, you can comfortably choose a suitcase that suits your preferences.
Flexible Capacity: With the ability to expand its capacity by 25%, the UZO 221 suitcase meets all your storage needs, from short trips to long journeys.
Versatile Functionality: Standing out with superior quality from the exterior to the interior, along with its accompanying useful accessories, the UZO 221 plastic suitcase can perfectly meet the diverse transportation needs of users.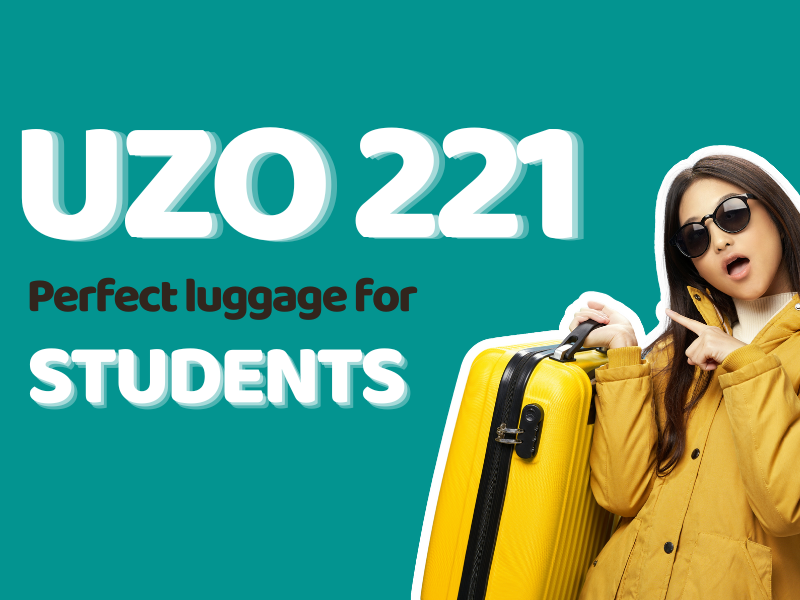 UZO 221 is always the best choice
3. Choosing the Right Size of Suitcase for Your Purpose
Choosing the right size for your suitcase can significantly impact your travel experience. Depending on your usage, you can select from three different sizes of the UZO 221 suitcase to ensure convenience and cost-effectiveness.
Small Size (20"): A size 20" suitcase is a perfect choice for short domestic trips or weekend getaways in the city. With this size, you can easily pack clothes, shoes, and some essential items.
Medium Size (24"): If you're preparing for a longer trip or need to carry more items, Hung Phat suggests the size 24" suitcase. This size is more spacious, allowing you to pack more outfits and personal items while still maintaining lightness and convenience.
Large Size (28"): For moving or when you need to carry a significant amount of personal belongings, the size 28" suitcase is the optimal choice. With its large capacity, you can fit a substantial amount of luggage into a single suitcase.
Choosing the Right Size of Suitcase for Your Purpose
4. Why should you choose us?
Hung Phat - the leading suitcase manufacturer in Viet Nam
Manufactured in Vietnam: Vali UZO 221 proudly represents high-quality Vietnamese craftsmanship with state-of-the-art production lines. This product not only meets international standards but also showcases pride in its Vietnamese origins and innovation.
Clear Warranty Policy: Hung Phat provides maximum peace of mind to customers through a transparent warranty policy and a straightforward, swift processing procedure.
Years of Trustworthiness: With over 17 years of leadership in luggage manufacturing in Vietnam, Hung Phat has solidified its strong position in both the domestic and international markets. Customers place their trust not only in the quality of the products but also in the commitments and values that the Hung Phat brand embodies. The ongoing effort to enhance product quality has made Hung Phat the top choice for many.
Superior Quality: Hung Phat places product quality as a top priority. Every product, including Vali UZO 221, undergoes stringent quality checks to ensure it meets the highest standards. From material selection to the production process, from quality inspections to final quality management - every step is executed with dedication and professionalism. Therefore, UZO 221 is not just an ordinary suitcase but also embodies the manufacturer's dedication and appreciation that Hung Phat conveys to its customers.
>> Learn more: Suitcase collection of Hung Phat