News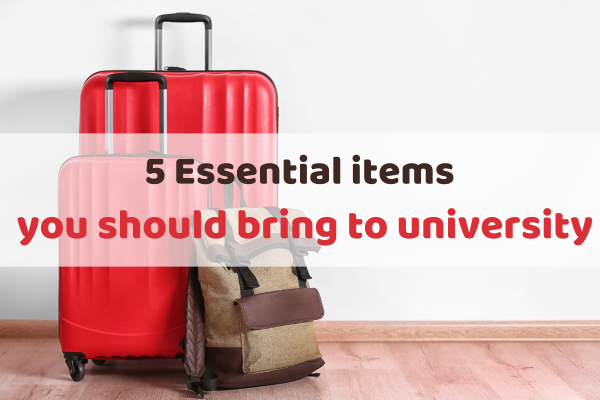 Posted by: Hung Phat JSC Luggage
Top 5 essential items to bring to university
Back-to-school season is here, and what do you need to prepare for your new journey? Let's find o...
Back-to-school season is here, and what do you need to prepare for your new journey? Let's find out with Hung Phat in the article below!
University marks a significant transitional phase, signaling the beginning of valuable experiences. To ensure a smooth journey for this new chapter, thorough preparation is crucial. Let's explore the essential items to bring when heading off to university.
Thoroughly preparing your luggage for university is incredibly important.
1. Essential Items
2.1. Documents Personal Documents:
These are your personal papers such as ID card, household registration book, health examination certificate, etc., which are necessary for temporary residence procedures and enrollment documents. Organizing and carefully storing these papers will save you time and avoid complications during the process of temporary residence and enrollment. For extra caution, consider making multiple photocopies of important documents and get them notarized in case you need to use them immediately.
Enrollment Letter: This is the most crucial document to verify and confirm your acceptance into the university. Safeguard the enrollment letter and keep it with you to avoid unnecessary troubles during registration and the start of classes!
Enrollment Portfolio: This package contains documents and information related to your enrollment at the university. It includes the enrollment letter, copies of your graduation certificate, certificates of completed courses, and other relevant documents that may be required during the enrollment procedure. Keeping this portfolio safe is vital to ensure your rights during your academic journey.
Safeguarding important documents during enrollment is crucial.
2.2. Study Materials
The knowledge you acquired in high school will continue to develop when you enter university, especially in subjects like Mathematics, Physics, Chemistry, and English. Therefore, don't rush to forget the materials from these subjects, as they will help you review and strengthen your knowledge when participating in the university program. Additionally, old study materials are effective tools for solidifying your understanding when tutoring as a part-time job, which is common among first and second-year college students.
In addition to study materials, you should also prepare a few textbooks related to your major to read and familiarize yourself with. This will help you avoid feeling overwhelmed during your university studies, as the amount of knowledge at the university level is vast and in-depth. It may take a considerable amount of time to adapt and keep up.
Study materials are beneficial for both learning and work when you enter university.
2.3. Laptop
A compact laptop that you can easily carry with you will be a valuable asset for university students. A laptop will greatly assist you in searching for information, storing knowledge, making presentations, and even internships. Owning a laptop will enable you to progress further in your academic journey and work endeavors.
If you don't already have a laptop, you can explore and purchase an ultrabook laptop that is slim, lightweight, and convenient for portability. Alternatively, if you prefer something even more compact, you can use a tablet. Tablets allow you to take notes easily, replacing traditional notebooks, and can be conveniently carried with you wherever you go.
Laptops are highly useful for studying at the university level.
2.4. Rolling Suitcase
Rolling suitcases help reduce the burden of carrying luggage.
A suitcase is one of the essential items when preparing for university. It helps you pack personal belongings such as clothes, shoes, study materials, and various other items. A convenient rolling suitcase not only helps you organize your belongings neatly but also protects important items throughout your journey.
When selecting a suitcase, you should consider important factors such as material, size, weight, and additional features. Hung Phat suggests a few suitcase models suitable for the needs of students
UZO 222 and UZO 221: Both UZO 222 and UZO 221 feature a relatively durable ABS scratch-resistant plastic surface along with convenient accessories such as garment hooks, sturdy telescopic handles, flexible wheels for various terrains, and high-security code locks. These two budget-friendly suitcase models boast a youthful and dynamic design, suitable for students and young learners.
Startup 516: The Startup 516 also employs ABS plastic material in its production, ensuring its durability and good load-bearing capacity. This suitcase model stands out with its distinctive intersecting lines pattern, creating a sleek and fashionable appearance. Along with matching color accessories, the Startup 516 suitcase is ideal for those who prefer a minimalist yet stylish and individualistic style.
Travelking 883: The Travelking 883 is one of the best-selling suitcase models on the market. Crafted using premium PP plastic material, the Travelking 883 suitcase features absolute breakage resistance and long-lasting durability. In addition to its fashionable color-coordinated accessories, the Travelking 883 suitcase is equipped with a recessed combination lock and a convenient TSA lock for international travel.
Suitcase models suitable for students at Hung Phat
>> Learn more: Hung Phat Suitcase Collection
2.5. Backpack
Backpacks are essential when going to school or work.
A backpack is an indispensable item in the arsenal of university students. Not only is it convenient for carrying a laptop, books, and personal items to class, but it's also a fashion accessory that expresses the personal style of young individuals. Opting for a compact and practical backpack will make your movements more convenient, allowing you to easily carry study materials when attending classes or going to work.
Here are some of the most popular backpack models at Hung Phat that you might consider
Marcello M103: This backpack model features a youthful and dynamic design with water-repellent polyester fabric, a ventilated back panel, and anti-wrinkle shoulder straps. Additionally, the well-organized compartments make it convenient for storing study materials.
Marcello M301: The Marcello M301 backpack is also well-suited for first-year students due to its trendy and individualistic design, water-resistant fabric, and lightweight construction. It offers ample storage capacity with its spacious compartments and effective anti-wrinkle shoulder straps. Marcello M301 is undoubtedly an excellent companion for students.
Marcello M602: In contrast to the above two models, the M602 embraces a minimalist design, catering to students who favor simplicity and utility. This backpack is also crafted from water-repellent fabric, offering generous storage space. Notably, it includes a dedicated laptop compartment that ensures the safety of your laptop during your travels.
Backpack models at Hung Phat
>> Learn more: Hung Phat backpack collection
3. Why should you choose suitcases and backpacks from Hung Phat?
Hung Phat takes pride in being a leading and reputable manufacturer in the luggage industry in Vietnam, committed to delivering high-quality products with a wide variety of styles, colors, and sizes to meet every customer's needs and preferences.
Hung Phat's suitcase and backpack products consistently receive high praise for their quality, affordability, and have proudly accompanied millions of customers both domestically and internationally for the past 17 years.
At Hung Phat, high-quality plastic materials such as ABS, ABS-PC, PC, and PP are utilized in the suitcase manufacturing process to ensure durability. The suitcase brands under Hung Phat include UZO, STARTUP, Hung Phat, and TRAVELKING. Notably, Travelking suitcases are made from PC and PP plastics, which are exceptionally durable and highly resistant to breakage, making them ideal for individuals who require frequent mobility.
>> Learn more: Distinction Of Plastic Types Used In Suitcase Production
Furthermore, Hung Phat places great emphasis on the aesthetics and design of its suitcase models. From budget-friendly options to premium selections, there are unique designs tailored to suit every style and age group. Therefore, when choosing products from Hung Phat, you can comfortably select a suitcase that suits your preferences and needs.
Travelking suitcases are attractive and eye-catching.
>> Learn more: Travelking suitcase brand
In addition, backpacks are also among the best-selling products at Hung Phat. Marcello backpacks by Hung Phat are entirely manufactured in Vietnam, using durable water-resistant polyester fabric and featuring a breathable back design and anti-chafing shoulder straps. They will undoubtedly be an excellent companion for you as you step into university.
Marcello backpacks are stylish and trendy.
Be sure to choose the most suitable suitcase and backpack products for yourself at the official Hung Phat retail stores!
>> Learn more: Backpack collection of Hung Phat