News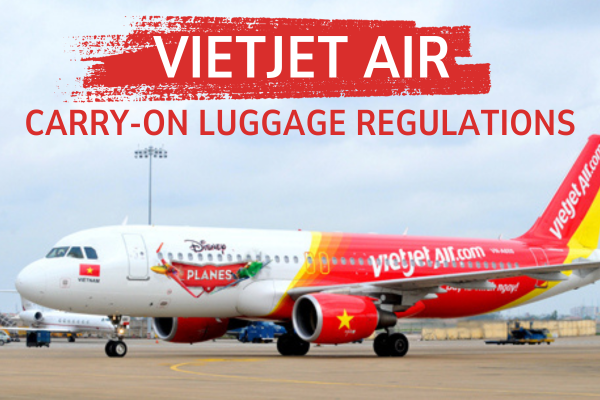 Posted by: Hung Phat JSC Luggage
REGULATIONS ON VIETJET AIR'S CARRY-ON LUGGAGE
Vietjet Air has clear regulations regarding the size and weight of carry-on luggage. Many p...
Vietjet Air has clear regulations regarding the size and weight of carry-on luggage.
Many passengers are not aware of these regulations, which can lead to reminders or even items being left behind due to non-compliance. Therefore, Hung Phat will provide you with some information on Vietjet Air's carry-on luggage regulations in this article.
1. Vietjet Air's Carry-On Luggage Regulations
Vietjet Air's regulations for a small piece of carry-on luggage allow for the following items:
01 ladies' handbag or book, camera, baby food bag, airport shopping bag, etc., with dimensions not exceeding 30cm x 20cm x 10cm.

01 coat bag with dimensions when opened up to a maximum of 114cm x 60cm x 11cm.

01 laptop bag with dimensions not exceeding 40cm x 30cm x 10cm.
For safety reasons, the weight and dimensions must adhere to the following rules:
Maximum weight must not exceed 7kg.

The total dimensions (length, width, height) of carry-on luggage must not exceed (56cm x 36cm x 23cm).

The total dimensions (length, width, height) of one accessory must not exceed 40cm x 30cm x 15cm.
Vietjet Air's Carry-On Luggage Regulations
2. Items Not Allowed in Carry-On Luggage
When booking a Vietjet Air flight, please note that the following items are strictly prohibited in carry-on luggage:
Sharp objects, knives, scissors, sewing needles, guns, bullets, sharp weapons likely to cause injury.

All explosives, matches, lighters, gas lighters, and sports equipment must be carefully packaged and checked in as checked baggage. If passengers carry them on board or pack them in carry-on luggage, they will be confiscated and destroyed.

Mineral water is allowed on board, but it must be purchased directly at the airport after passing baggage screening, as goods sold in the airport have been checked and meet the requirements.

Shower gel, shampoo, and other liquid items are not allowed in carry-on luggage if they exceed 100ml. You should either keep them in their original packaging or divide them into smaller containers of less than 100ml, with the total of these containers not exceeding 1 liter.
Items Not Allowed in Carry-On Luggage
3. Regulations for Liquids and Food in Carry-On Luggage
If passengers wish to bring live seafood, frozen seafood, or meats in their carry-on luggage, they must be properly packaged according to Vietjet Air's regulations.

Liquids must be separated and stored in containers of no more than 100ml. All liquids must be placed in a transparent plastic bag for security personnel to inspect.

Medicines must be accompanied by a prescription with the doctor's name, address, and the passenger's name and address.

Baby food, milk for infants traveling with the passenger, and liquid cosmetics such as skin lotion, hair spray, shampoo, shower gel, face wash, perfume, and spray bottles are allowed on domestic flights.

Flammable liquids, hazardous materials such as acid, paint, gasoline, and oil are strictly prohibited from being brought on board as they are dangerous and pose a threat to human life.

Carry-on luggage must conform to Vietjet's carry-on luggage regulations and must fit under the seat in front of the passenger or in the overhead storage compartment. Luggage that exceeds the weight or size limit set by Vietjet is not allowed on board.

Vietjet has the right to recheck the weight and dimensions of carry-on luggage at the departure gate. If the carry-on luggage does not comply with the regulations, passengers will be required to pay a fee to check it or their luggage will be denied boarding.
Regulations for Liquids
4. Where to Buy Carry-On Luggage
If you are looking to purchase genuine carry-on luggage, you may wonder where to buy it. If you are looking to buy carry-on luggage for your trip, you can visit Hung Phat's nationwide network of more than 1500 authorized dealers.
Hung Phat Corporation, with its extensive network of over 1500 retail locations nationwide and a range of over 100,000 products, makes it easy for you to choose the perfect product.
>> Learn more: https://en.hungphat-jsc.com/luggage
At Hung Phat, we always provide a variety of luggage products in terms of design and style. Our products are guaranteed to be 100% genuine, so you can trust in their quality.
Hung Phat luggage in retail store
These are the carry-on luggage regulations of Vietjet Air that you need to know. Please follow them for a smooth, safe, and cost-effective flight!