News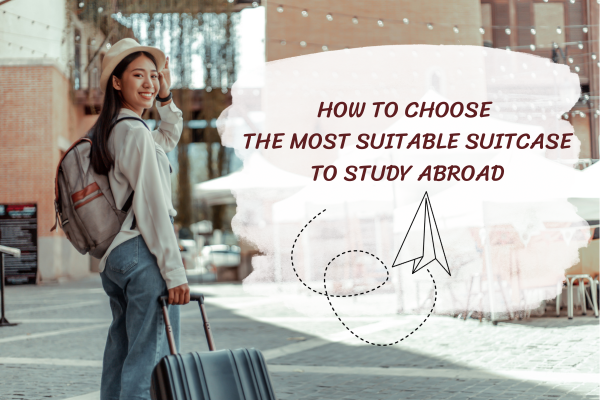 Posted by: Hung Phat JSC Luggage
HOW TO CHOOSE THE MOST SUITABLE STUDY ABROAD SUITCASE. TIPS TO ARRANGE BELONGINGS FOR STUDYING ABROAD
Hung Phat suggests some tips for choosing the most convenient study abroad suitcase for internati...
Hung Phat suggests some tips for choosing the most convenient study abroad suitcase for international students preparing for a new study abroad journey.
Studying abroad is a long journey. Therefore, the concern of students studying abroad is often "how to choose a suitcase to study abroad?" and "How should I pack my luggage?". Therefore, choosing a suitcase with a large capacity and packing your belongings appropriately is very important. In the article below, Hung Phat will guide you how to choose a study abroad suitcase and prepare your luggage most effectively.
1. Experience in choosing a study abroad suitcase
Study abroad suitcases not only need large capacity but also need durability because international students need to hold a lot of things and carry them over very long distances. Therefore, when choosing a suitcase to study abroad, students will often have a more rigorous view than when choosing a regular travel suitcase.
Choosing a large capacity suitcase is very beneficial when studying abroad
1.1. Which suitcase size should I choose when studying abroad?
Studying abroad is a long period of time away from home that can last from 6 months to 5 years. To choose the appropriate suitcase size, you need to estimate in advance the amount of luggage you will bring.
Normally, when studying abroad, you will choose to bring 2 suitcases with you for the purpose: 1 carry-on, 1 checked bag or 2 checked suitcases and a carry-on bag/backpack.
For carry-on luggage, you should choose a suitcase size 16 or 18 with a luggage weight of about 7 kg depending on the airlines' carry-on luggage regulations.
Because when studying abroad, you will have to bring your personal laptop with you to serve your studies, so to maximize protection for your personal computer, you should choose a suitcase with a separate laptop compartment, which is extremely convenient and clear. Worried about the laptop being scratched or bumped into other luggage.
With checked baggage, you can choose 02 large suitcases (size 28) or 01 suitcase of size 24 and 01 suitcase of size 28. The choice of normal suitcase size must meet the size requirements of the airline. Are not. Suitcases size 24 and 28 will be two sizes suitable for most airlines' regulations in Vietnam.
Choose the appropriate suitcase size
1.2. Note about suitcase weight
In addition to size, pay attention to the weight of the suitcases because when your luggage is too heavy or too bulky, checking in at the airport can make it difficult for you.
In case your baggage exceeds the weight limit:
With carry-on baggage, you may have to go through check-in procedures (mandatory).
With checked baggage, you will have to pay an additional fee for excess weight. The fee to be paid will be in accordance with the individual regulations of each airline.
Therefore, please carefully study the airlines' baggage regulations to avoid difficulties during the check-in process at the airport!
Note the weight when preparing your luggage
1.3. What material should I choose for my study abroad suitcase?
Choosing suitcase material also makes many international students wonder. On the current market, fabric suitcases and plastic suitcases are often chosen to accompany international students on their study abroad journey.
You should choose a suitcase made of high-quality, durable fabric or plastic, with high shock resistance and good strength to facilitate international travel as well as long-term use in the future.
In particular, choose high-end suitcase models with integrated international standard TSA locks to avoid unwanted situations when you accidentally leave a prohibited or suspicious item in your luggage.
Besides, you can refer to aluminum frame suitcase models with hard and strong frame structures that are also very suitable for frequent and continuous travel.
Choosing the material of your study abroad suitcase is very important
2. Tips for arranging luggage for studying abroad
Unlike arranging luggage for normal travel, packing luggage when studying abroad is not an easy problem. Therefore, you should remember the following tips to be able to prepare your luggage in the most complete way.
2.1. Find out information about the country you are about to visit
Before preparing to fold your clothes or personal belongings, proactively go online and search for information about flight regulations in the country you are going to to know what items you can bring and what. Are not.
Besides, find out where you will stay while studying abroad, dormitory or rental house. Let'sResearch whether your location is close to markets, shopping centers, or convenient shopping to choose and bring the most necessary household items.
Be proactive in searching for all necessary information
2.2. Make a list of items to bring
Making a list of necessary items is very important because it will help you fully control the items you bring to avoid being forgotten and also help you estimate the amount of luggage to choose the right suitcase to bring. .
Identification documents and documents related to admission procedures: This is the most important thing you need to keep in mind. Please carefully check the documents you need to bring before leaving.
Laptop and maybe books (but consider this because books are items you can buy when you arrive)
Clothing: Bring a few pairs of jeans and the most necessary clothes. If you go to countries with cold weather, bring a thick jacket to keep your body warm.
Medicine: Don't forget to bring medicines such as cold medicine, allergy medicine, cough medicine, wind oil,... these will be saviors when you unfortunately get sick or have allergies due to the weather or environment.
Necessary personal items such as facial cleanser, shampoo, conditioner, cosmetics, etc. Note that you should only bring a sufficient amount for the first time.
Make a list of what you need to bring
2.3. Arrange furniture neatly and reasonably
Packing and arranging your belongings is a very important step because it will determine the size and size of the luggage you need to bring. To pack your study abroad suitcase neatly and hold a lot of things, you need to know how to arrange your study abroad suitcase as well as tips on how to pack things into your study abroad suitcase to create a lot of space and hold the most things.
To pack your study abroad suitcase neatly and orderly, please follow the following principles to have a way to arrange your study abroad suitcase to hold the most items:
Arrange heavy items on the bottom, light items on top.
Prioritize arranging important items first.
Fragile items should be carefully wrapped and placed in the middle of the suitcase.
Take advantage of stuffing small items into empty spaces.
Besides, you can refer to the following ways to pack things into your suitcase to maximize space and best protect your luggage.
Remove labels and packaging of unnecessary items
Use clothes to wrap around breakable items
Stuff small items into large items (if possible).
Roll clothes to save space. You can use rubber bands to keep the clothes from unwinding when rolled. With thick clothes like jeans and jackets, you should fold them. Arrange rolled clothes on the bottom, folded clothes on top.
Cosmetics and other items that can leak water should be wrapped in a tight layer around the lid.
Preparing your luggage carefully is giving yourself a smooth start. Hopefully through Hung Phat's article you can easily prepare your luggage for your long and memorable trip.
Packing your belongings helps maximize the protection of all luggage