News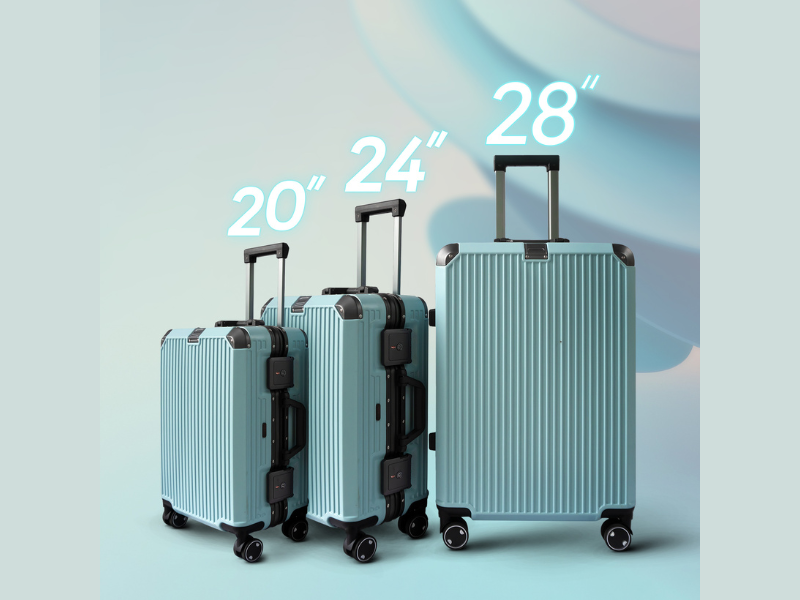 Posted by: Hung Phat JSC Luggage
Explain the atracttion of Travelking Aluminum Frame Suitcase 8003
Travelking Aluminum Frame Suitcase 8003 is a high-end suitcase model under the brand Travelking f...
Travelking Aluminum Frame Suitcase 8003 is a high-end suitcase model under the brand Travelking from Hung Phat JSC. It is highly favored for its sturdiness, durability, and effective theft prevention.
It's not difficult to understand why the Aluminum Frame Suitcase 8003 holds such appeal to customers. Let's explore the surprising features hidden within this iconic suitcase!
1. What makes Travelking 8003 special?
Exuding luxury and sophistication in every detail, Travelking 8003 boasts a compact and refined design, following the modern trend and exuding a charismatic style suitable for business travelers. Especially crafted from 100% durable PC plastic material, Travelking 8003 provides absolute impact resistance and comes with remarkable modern features, including a secure TSA lock, an anti-scratch aluminum frame, and anti-theft shut-frame.
Travelking Aluminum Frame Suitcase 8003
2. Notable advantages of Travelking 8003
Since its debut, the Aluminum Frame Suitcase 8003 has made a strong impression and holds charm due to its design and materials. Available in various colors and sizes (including 20-inch, 24-inch, and 28-inch sizes), it caters to the diverse needs of many customers. The followings are features that create the appeal of this aluminum frame suitcase:
- 100% PC plastic material: Crafted from premium and robust 100% PC (Polycarbonate) material, it is resilient, shatterproof, and capable of withstanding strong impacts, making it confidently traverse any terrain. The unique small embossed surface design helps reduce friction and effectively prevents scratches, keeping your suitcase looking pristine.

Durable PC plastic material of travelking 8003
- High-security TSA lock: Unlike regular zipper lock suitcases, the Aluminum Frame Suitcase 8003 features a robust latch lock design. The latch lock structure includes a fixed aluminum frame and two TSA locks. The advantages lie in its high security, water resistance, dust prevention, and anti-theft properties.
TSA lock
- Metal corner protectors: Additionally, the aluminum frame suitcase is equipped with fixed metal corner protectors on the front two corners to enhance its fashion appeal and also minimize impacts. This protective feature provides you with peace of mind during long journeys, knowing that your suitcase is safeguarded.
- Spacious interior compartment: The Aluminum Frame Suitcase 8003 features two spacious compartments with additional side pockets. This intelligent design allows for easy organization of different travel essentials. Spacious interior compartment
Moreover, it comes with dual-layer waterproof mesh pockets for wet items, ensuring your belongings remain dry. When making a purchase, be sure to check for the Travelking logo sewn inside to ensure it's genuine and not counterfeit.
- Water-resistant, dustproof, and scratch-resistant: One of the suitcase's excellent advantages is its outstanding water and dust resistance, making it much easier to clean. Furthermore, the Aluminum Frame Suitcase 8003 is more scratch-resistant compared to other regular suitcases.
Anti-scratch shells
- Long-lasting durability: The aluminum frame suitcase exhibits exceptional impact resistance due to the 100% premium PC material, far surpassing other plastic materials. Its lifespan is significantly longer than that of plastic or fabric suitcases.
The Aluminum Frame Suitcase 8003 stands out for its elegance and refinement, primarily due to its impressive array of color choices. The exterior oxide layer will protect the paint surface of the suitcase from external factors such as sunlight, dust, and changing weather. Not only is it corrosion-resistant, but the suitcase also retains its color exceptionally well.
Travelking 8003 is considered as a high quality product
- Highly regarded as one of the most durable products: As explained above, we have explained the attraction of the Travelking Aluminum Frame Suitcase 8003, which is currently the best-selling on the market. We hope this article will help travel enthusiasts choose a durable and beautiful suitcase that meets their needs for extended journeys.
>> Learn more: Suitcase collection at Hung Phat JSC